The King of Wands is one of the most important cards of the Minor Arcana.
Below you will learn everything about its meaning both in the upright and reversed position.
In addition to the general interpretation, the topics of love, health, career, finances and destiny are also explained in detail.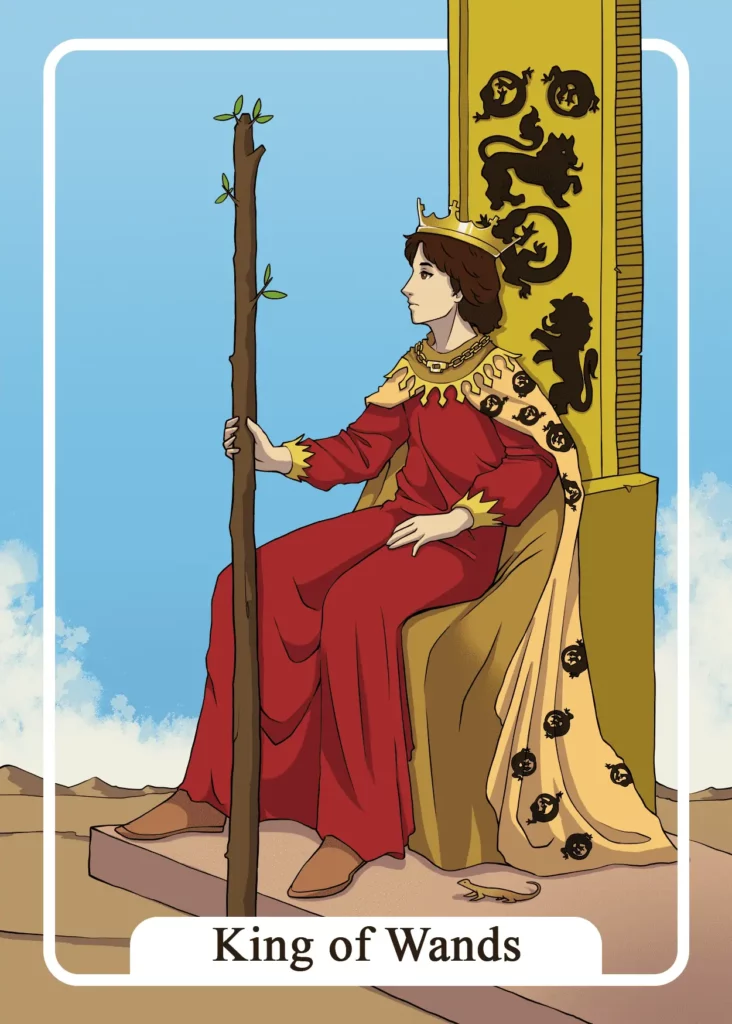 The King of Wands Keywords
Upright: Power, Inspiration, Leader, Bold
Reversed: Impulsive, Timid, Reckless, Demanding
The King of Wands Tarot Card Description
The King of Wands sits on a richly decorated throne, looking out for new challenges yet to come. His backrest contains images of lions and salamanders, both associated with the element of fire and representing power and transformation.
A salamander bites its own tail as a sign of the cycle of life that knows neither beginning nor end, success or failure, but in which all opposites melt away.
This symbolism shows that the King of Wands tries to look behind the dualisms of life and thus achieve inspiration for his own actions.
The throne is on a stone foundation, reinforcing his position as monarch, ruling immovably from his royal chair.
The king's clothing takes up a large part of the image, showing just how influential and powerful this ruler is.
In his hand, the King of Wands holds a staff with fresh shoots, which sprout new impulses and ideas in him. His posture is upright and expresses high expectations and leadership.
He looks out into the world with courage and boldness and has no fear of the tasks that still await him. For the king knows that he has behind him a large retinue which, under his leadership, will master any challenge, no matter how great.
The King of Wands Tarot Card Meaning
Upright
The King of Wands encourages you to seize the opportunities that lie ahead of you because you now have the inner strength to do so.
In the past, you may not have been able to take advantage of such opportunities, either because you had too much self-doubt or because you had to overcome other challenges.
But now you have enough strength again to try new projects and realize them in your sense. Don't be afraid to take risks, but approach opportunities boldly and according to plan.
The power lies in you to fulfill and enrich your life by resolutely but wisely accepting the tasks that lie ahead of you and successfully passing them.
Furthermore, the Tarot card of the King of Wands shows that you should trust in your natural leaders to achieve your goals. Many plans and wishes we have are difficult to realize alone.
However, if you manage to convince others of your visions and get them to help, suddenly unattainable dreams become reality.
As a leader, you turn your dreams into a shared vision without forcing them on anyone. In the next step, you show the way to achieve your common goals through your thoughtful and planned actions.
As a leader, however, you also bear the burden of responsibility that comes with such challenges.
In a tarot reading, the King of Wands represents the search for new inspiration in life. You have already achieved a lot professionally and privately, but you still have the urge to create.
You are not satisfied with what you have achieved and work on constantly exploring and expanding your limits.
That sometimes brings you to the limit of your strength, but at the same time, you mature in the new challenges in life. By dedicating yourself to new interests, you, in turn, receive important impulses for your life, which increase your knowledge of the world.
As a seeker, you are not simply satisfied with the answers of others but strive to make your own experiences and gain new insights.
Reversed
The King of Wands Reversed stands for your sometimes impulsive actions, which can get you into trouble. As soon as you have an idea in your head, you try to implement it with all your might. You do not think about the consequences of your actions but just go for it.
The same applies to your emotions, which you freely express in both a positive and negative sense. That often makes you seem inconsiderate towards your fellow human beings, as you often offend them with your impulsive actions.
Practice thinking twice about your actions and emotions before letting them run wild. A prudent and planned behavior will open many doors for you in the long run.
Another meaning of the King of Wands Reversed is that you are very demanding towards the people around you. You have a high attitude of demand towards yourself. You expect your environment to show the same devotion to your goals as you do.
On the one hand, this high demand can motivate people to get the best out of themselves. On the other hand, you may face a lot of resistance since not everyone is willing to sacrifice everything for your plans.
By finding a middle ground between under- and over-demanding, your peers will be more likely to commit to your goals and provide you with the necessary level of support.
If you draw the King of Wands Reversed in a tarot reading, this may indicate that you are too timid in your undertakings. You are afraid to take risks and prefer to stay within the safety of your walls. But by doing so, you miss out on many opportunities to develop yourself further.
You will learn to handle difficult situations with confidence if you are willing to take a risk. In addition, some opportunities in life are only available for a limited time and expire if you hesitate too long.
Therefore, gather your courage and face the opportunities and challenges ahead of you. What do you have to lose? On the contrary, you will always gain at least invaluable experience.
Do you want to know what today holds for you? Draw your Daily Tarot Card now for free!
The King of Wands Tarot Love Meaning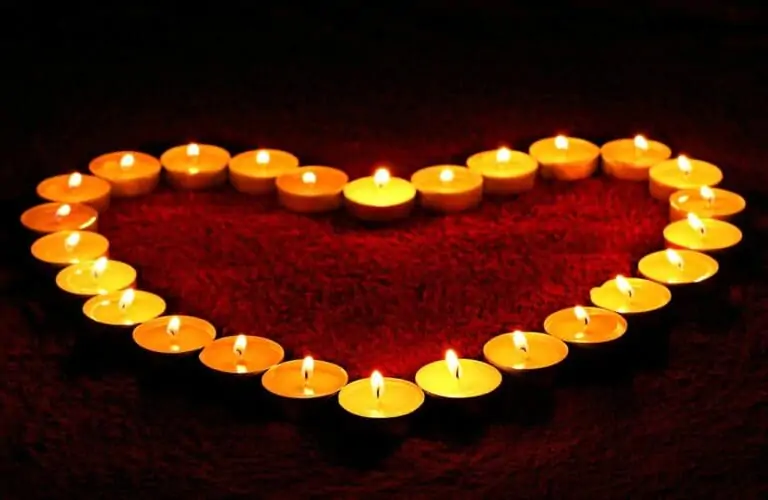 Single
Upright
As a single, the King of Wands encourages you to be bold and self-determined in dating. Our fears of rejection and abandonment are the biggest obstacles to finding true love.
However, if you dare to face your fears, you will realize how easy it is, to meet someone new.
Your boldness will also give you a natural and confident aura that will make your counterpart feel at ease.
Furthermore, the King of Wands reveals that you have the necessary power within you to find your long-desired partner.
Be aware that you have the power to take your destiny into your own hands and to shape it in your own way. Inside you is incredible energy and perseverance that will help you search for a partner.
Use the power of your learned skills and your experiences to get to know new people and win them over. The stronger your faith in yourself, the more likely you discover true love.
Reversed
The King of Wands Reversed warns you not to be too timid in your efforts to find a partner. By being too wait-and-see, you miss out on many opportunities to meet someone.
Maybe you are afraid of being rejected or want a hundred percent guarantee that someone is your dream partner.
But the longer you hesitate, the more your chance to meet True love decreases. You will realize for yourself what the Great Love should look like for you when you are ready to make different relationship experiences
The King of Wands Reversed Tarot card indicates that you are too hasty in your search for a partner. You strongly follow your first inner impulses and quickly show your liking or disliking.
However, sometimes the first impression on a date is deceptive. You miss the chance to get to know and love someone more closely because of your impulsive actions.
Give your date some space so that she can introduce herself to you and keep your first impulses in check for the time being.
Relationship
Upright
In a relationship, the King of Wands reveals that you are looking for new impulses for your love life. Your own ideas or little things from your everyday life can lead to new inspiration in your life together.
It's best to sit down together and discuss your preferences or observations that have fascinated you a lot lately.
Then choose together which ideas you would like to put into practice and enrich your everyday life. In a relationship, it is important to try new things to keep your life together exciting and vital.
Another aspect of the King of Wands is that you and your partner should take different leadership roles in your partnership. One alone cannot decide on all aspects of your life together without suppressing the other partner.
Instead, you should divide certain tasks in your relationship according to your strengths and weaknesses.
Each of you takes the lead in his area and gives direction accordingly, thereby providing support and security for the other partner.
Reversed
In a partnership, the King of Wands Reversed represents a partner's reckless behavior. Especially when one partner ignores the wishes or needs of his counterpart by extremely humiliating means, caution is advised.
Recklessness involves a deliberate component of harming someone else to achieve one's own goals. If you notice such behavior in your partner, act quickly and confront him.
Furthermore, you must stand up for your needs and appreciation in your relationship.
The King of Wands Reversed encourages you to be more assertive about your desires within your relationship. Demand appropriate support from your partner in the implementation of your intentions.
However, give as much as you demand from your partner so that your relationship does not get out of balance. You should also avoid overtaxing your partner so that you can continue to build on his support.
Do you want to know how your love life is developing? Draw your Love Tarot Card now for free!
The King of Wands Tarot Health Meaning
Upright
For your health, the King of Wands is a good sign regarding your vitality and resistance. You are bursting with energy and feel fitter than ever.
At the moment, you are not very susceptible to minor infections, as your immune system can easily cope with them. Now is a good time to tackle challenging projects, as your good condition will protect you from overwork.
In case of illness, the King of Wands encourages you to move forward courageously. Giving up is not an option, as you can do many things yourself to support your defenses.
Often our own inner attitude has a decisive influence on our recovery process. Therefore, you should always look to the future with hope and courage.
Reversed
The King of Wands Reversed shows that you do not take enough care of your body. You tend to overexert yourself and go beyond your breaking point.
This reckless approach eventually takes its toll in the form of exhaustion or higher disease susceptibility. Therefore, pay attention to your body and plan more regeneration times in your everyday life.
Another aspect of the King of Wands Reversed is that you are too timid in addressing your health complaints. Instead of going to the doctor, you are unnecessarily delaying your treatment.
Your efforts to become fitter stagnate because of interruptions and discontinuations. Set clear goals and fully realize one aspect of your health before moving on to the next.
Do you want to know how your health situation is developing? Draw your Health Tarot Card now for free!
The King of Wands Tarot Career Meaning
Upright
Professionally, the King of Wands reveals that you need to carry more leadership responsibility. It is important to balance the needs of individual employees with those of the entire team.
With a cooperative and participative leadership style, you will get many colleagues on your side. Together, under your guidance, you will be able to overcome even the most difficult challenges.
Furthermore, the King of Wands encourages you to make courageous decisions on the job. There are always situations that require courageous action, but of which we are afraid.
In the long run, fearlessly acting will pay off for your career path as you learn to face challenging tasks instead of running away from them.
Reversed
The King of Wands Reversed shows that you are very demanding on the job. By doing so, you are upsetting some of your colleagues. Do not demand more from others than you are willing to invest in your work.
You should also consider the circumstances of your employees before you demand too much from them. Accept that everyone has their own individual work style to which you should adapt your demands.
If the King of Wands Reversed appears in the Tarot, it can symbolize a ruthless boss. Your boss is only interested in numbers and his own success.
Needs of you as employees are ignored and instead always demanded from you. Don't put up with such inconsiderate behavior and fight back together.
Do you want to know how your professional situation develops? Draw your Career Tarot Card now for free!
The King of Wands Tarot Finances/Money Meaning
Upright
In financial matters, the King of Wands stands for a stable fortune and resulting possibilities of influence. With your money, you have the power to do good in your environment.
Often small donations are enough to help smaller associations or support needy people in your environment. Your wealth provides a high satisfaction to your fellow men through such deeds.
The king of bars can also be a sign of bold investment. Use your previous experience to tackle a somewhat riskier purchase.
Trust your intuition and don't be afraid of failure. Either your investment will pay off or you will learn valuable lessons for the future.
Reversed
The King of Wands Reversed shows that you should urgently settle financial debts. Otherwise, there is a danger that your debts will grow over your head because banks or creditors are not exactly squeamish when it comes to collecting money.
Therefore, talk to your creditors and make a long-term plan to meet your financial obligations.
In addition, the King of Wands warns against a reckless approach to money. That means not to lead an exaggerated lifestyle that you can't afford.
In the short term, you will indulge in luxury. However, in the long term, you will have to work off your accumulated debts.
Do you want to know how your financial situation is developing? Draw your Finance/Money Tarot Card now for free!
The King of Wands Tarot Destiny Meaning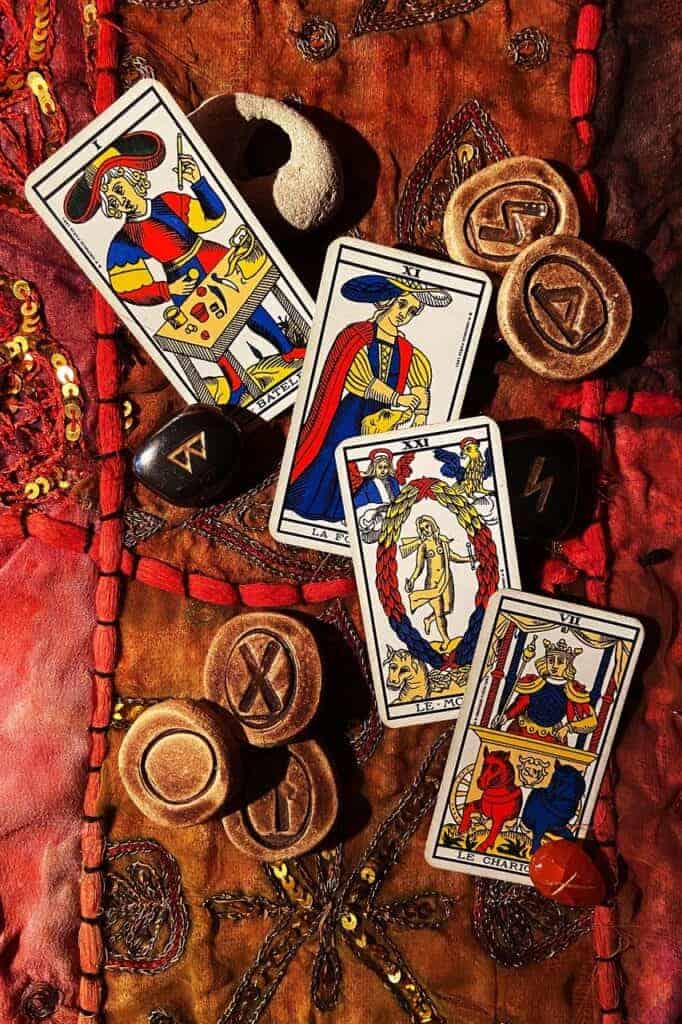 Upright
As a destiny card, the King of Wands stands for opportunities to prove your leadership qualities. That includes especially having the courage to make unpleasant decisions.
Thus you will be an important rock for your fellow men, who will keep a cool head even in difficult situations.
Reversed
The King of Wands Reversed means for your destiny that you demand too much from yourself and others. You want to push through your goals with all your might. Therefore you take too little account of the consequences of your actions.
Better shift down a gear and plan your next steps with a cool head, even if they may take a little longer.
Do you want to know what your destiny has in store for you? Draw your Destiny Tarot Card now for free!