The Five of Pentacles is one of the most important cards of the Minor Arcana.
Below you will learn everything about its meaning both in the upright and reversed position.
In addition to the general interpretation, the topics of love, health, career, finances and destiny are also explained in detail.
The Five of Pentacles Keywords
Upright: Loss, Worry, Rejection, Poverty
Reversed: Wealth, Vitality, Community, Hope
The Five of Pentacles Tarot Card Description
The Five of Pentacles Tarot card shows two beggarly people looking for a refuge in the depths of winter. One of the two beggars has two crutches to help him walk.
He also has a small bell around his neck, as a sign that we must not ignore problems, but face them as quickly as possible.
The other poor person wears thin clothes to protect herself from the cold and snow around her.
In addition, she walks barefoot through the snow because she cannot afford footwear and thus the cold flows through her entire body.
The tall person deliberately turns away from the man on crutches and brusquely rejects him by ignoring him and he has to walk behind her despite his crutches.
The icy landscape in the background also reflects the inner life of the two people depicted, which is characterized by worry, loneliness, and emotional coldness.
Above the two beggars is a magnificent church window that promises security and refuge even in difficult times.
The church's wealth, represented by the magnificent decorations in the window, shows a strong contrast to the poverty of the two beggars and symbolizes how close wealth and poverty are to each other.
However, the two poor people are so preoccupied with their own worries and needs that they do not even notice the saving shelter and instead continue their journey of hopelessness.
The Five of Pentacles Tarot Card Meaning
Upright
The Five of Pentacles card symbolizes a great loss and poverty in your life that has a lasting effect on your daily life. Such a loss can refer to material things but also our professional and private life.
You lose important resources in life for example through the loss of your job or the loss of a loved one through death or illness. You feel very weakened and look with worry and fear into your future.
Now you must activate all the resources you still have, such as friends or family, and try to fill the gap with new confidence and hope, so that you can enrich your life with positive moments again.
Another meaning of the Five of Pentacles shows that you feel very alone and abandoned. You have experienced a lot of rejection from other persons in the past, where you would have expected help. The loneliness causes you to reduce contact with other people and wander around alone.
To be rejected by a loved one is very painful, but it can also be a wake-up call for you to take the solutions for your problems into your own hands again and to fall back on other resources.
Be yourself light in the darkness and you will receive help and fellowship from various places with which you can rebuild your life.
The Five of Pentacles reveals, that you are focusing too much on your problems and completely ignoring obvious solutions. If you always focus on your problems, they will become worse and bigger than they are.
The wrong focus causes fear of loss and worries about your own future, without any of these fears becoming true. But the more you have such catastrophizing thoughts, the more likely they will become reality.
Instead, shift your focus to the various resources and help available to you in your immediate environment.
Whether you ask a friend for help or try to see your problems as new opportunities, only when you take the first step toward solution-oriented action will your worries and fears dissipate.
Reversed
The Five of Pentacles Reversed Tarot card is a sign of great vitality and prosperity, which you are enjoying right now.
Think about people who do not have as much happiness and satisfaction in life as you do at the moment and share your prosperity with them. Sharing does not only mean monetary support in the form of donations, for example, but also time and active help.
By helping other people through listening or practical assistance, you automatically give them new strength and courage to face life.
It is not necessarily necessary to go far away, often there are people in your environment, such as family or neighborhood, who are very grateful for any help.
Another aspect of the Five of Pentacles Reversed is to never give up hope, even if your life is currently buffeted by many crises and therefore feels cold and empty. Maybe you have just lost your job or a close relative and are unsure how your life should go on now.
Look at the positive things you still have despite the loss, such as your skills, abilities and relationships, and use these resources to get back on your feet.
By keeping your hope and confidence burning like an inner flame, even in the darkest and coldest hours of your life, you will always carry a warming light within you that will show you the way out of any crisis, no matter how difficult.
The Five of Pentacles Reversed also shows the importance of your social environment on your well-being and the resulting social support.
We live in various communities such as family, work colleagues or our circle of friends, who provide us with valuable practical help and emotional support in times of great need.
Care for your social environment wisely and be ready to give help as much as you would like to receive it.
The better connected you are in your communities, the more opportunities for mutual support you will have. Increase not only the number of your contacts but also the quality.
Do you want to know what today holds for you? Draw your Daily Tarot Card now for free!
The Five of Pentacles Tarot Love Meaning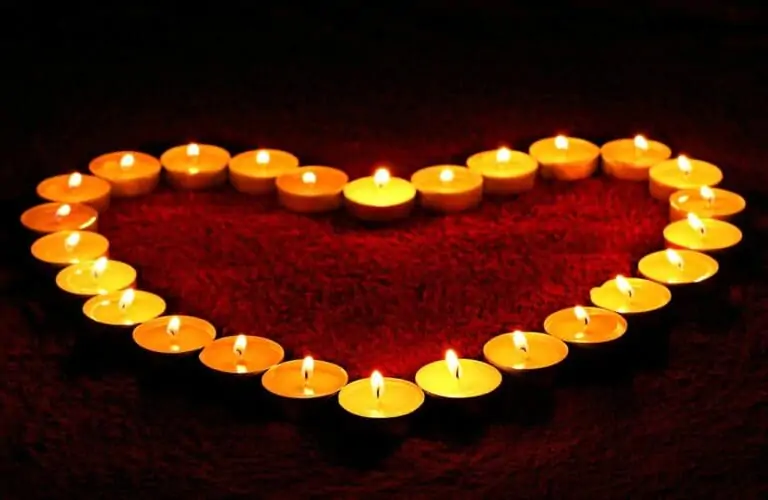 Single
Upright
In a Love Tarot reading, the Five of Pentacles reveals that you have a strong fear of rejection when looking for a partner.
No one likes to experience rejection, especially when it comes to love, but it is a natural part of our lives and only signals that our counterpart cannot build deeper feelings towards us.
It does not make you inferior or a bad person, on the contrary, rejection can help you not to cling to one person unnecessarily long, but to open your heart to a new partner.
The Five of Pentacles also shows that you have worries about your own future, which negatively affects your efforts to find a partner. You are barely focused on your dates and seem very distressed and distracted from your counterpart.
Devote yourself to overcoming your fears about the future and approach them actively and solution-oriented, so that you can again muster energy and strength for the partner search.
Reversed
In a love Tarot reading, the Five of Pentacles Reversed symbolizes that you have a lively and healthy aura towards other people, which makes it easier for you to find a partner.
By more conscious handling of your body through regular sport and healthy nutrition, you influence in a positive sense your health and at the same time also your attractiveness.
Your physical vitality also increases your inner strength, so you are less afraid of rejection and confidently take your love into your own hands.
In addition, the Five of Pentacles Reversed expresses that you should always approach the search for a partner with confidence. Because whether you find the love of your life or not depends to a large extent on how persistent you are in your search.
Love can hold many disappointments and rejections in store for you, but as long as you do not give up hope for true love, it will always find a way into your life. Confidence helps you even in difficult times of loneliness not to despair but to enjoy your life despite being single.
Relationship
Upright
In a partnership, the Five of Pentacles symbolizes a great fear of loss towards your partner. Perhaps you have just had a major conflict or crisis, which has put a great strain on your relationship with each other. You are afraid of losing your partner and cling to him even more.
But by doing so, you only cause him to withdraw even more and want his peace. Give your partner and yourself time and space to get clear about your current relationship crisis and then seek the conversation with each other to clarify how your partnership should go on in the future.
Another meaning of the Five of Pentacles for a relationship is that you as a couple are currently experiencing existential poverty, which is causing your partnership to suffer greatly.
In particular, the loss of your job and the associated income is a great stressor for yourself and your relationship.
Instead of blaming each other or stirring up fears, consider together what steps you must take now so that you can get out of your financial predicament.
Only with united forces, you survive the coming time of renunciation and fight your way back up out of poverty.
Reversed
The Five of Pentacles Reversed indicates the importance of living together as a community. Especially in difficult times, it shows how reliable and supportive your partnership is.
Do you help each other through the icy storm or does one partner fall by the wayside? Often you can tell from small scenes in everyday life to what extent you can rely on your partner.
If you are ill, for example, a caring partner will naturally take over the household chores and does everything to make sure, that you will soon be healthy again.
Another aspect of the Five of Pentacles Reversed in a partnership is to be aware of the wealth your relationship brings.
Wealth refers here only to a small extent to financial things, but rather to the feeling of security, care and safety that your partner gives you.
Such an inner and fulfilling wealth cannot be bought with money and requires regular care to grow and flourish.
Do you want to know how your love life is developing? Draw your Love Tarot Card now for free!
The Five of Pentacles Tarot Health Meaning
Upright
Regarding your health, the Five of Pentacles signifies a prolonged state of illness. Although your symptoms do not subside, you have not yet accepted medical help.
As a result, there is a danger that your symptoms will continue to worsen. Therefore, make an appointment with a doctor quickly to clarify your symptoms.
Furthermore, the Five of Pentacles reveals the difficulty of getting an appointment with a specialist. No matter where you call, you don't get a medical appointment right now, or only in a few weeks/months.
Do not give up on your plan and persistently call all the specialists in your area several times. Also, contact your health insurance company, which should help you find an appointment.
Reversed
The Five of Pentacles Reversed is a card of hope for chronic diseases. A new treatment or change in your life circumstances will soon have a positive effect on your recovery.
Even though your symptoms will not completely subside, you will feel significant relief in your daily life.
Another meaning of the Five of Pentacles Reversed is that you will feel vital and rested. Use your power to strengthen your immune system against future illnesses.
So now is a good time to start a new sport or change your diet. Such lifestyle changes are much easier when you are fit and rested.
Do you want to know how your health situation is developing? Draw your Health Tarot Card now for free!
The Five of Pentacles Tarot Career Meaning
Upright
In a professional context, the Five of Pentacles represents a rejection in your job search. Most of your applications come back unanswered and interviews are rather the exception.
Such rejections can quickly lead to self-doubt about your abilities. But maybe your talents don't match the jobs you have chosen. Therefore, target more job offers that match your skills.
In addition, the Five of Pentacles can indicate a job loss. Quitting your job can trigger existential and future fears.
Don't let this fear paralyze you, but first take all the necessary steps to avoid financial hardship (apply for welfare, etc.). Then you can apply for new jobs in peace.
Reversed
The Five of Pentacles Reversed stands for an important person in your job who supports you. Especially in difficult times, this person has never let you down and helped you.
Having an ally at work has a positive effect on the working atmosphere and also increases your performance. Support your professional partner as much as he supports you so that your relationship will last for a long time.
Another aspect of the Five of Pentacles Reversed is that you can regain your professional footing after a long lean period.
Your job interviews have been successful, so you have concrete job offers to choose between. Use your professional upswing to face the new challenges with the appropriate motivation.
Do you want to know how your professional situation develops? Draw your Career Tarot Card now for free!
The Five of Pentacles Tarot Finances/Money Meaning
Upright
In financial matters, the Five of Pentacles represents serious money worries that plague you. You can hardly fall back on money reserves and have to turn over every penny twice.
First of all, concentrate on having a regular cash flow again to cover your basic costs. Get additional support (counseling centers, family) from the outside to find a way out of poverty again.
Another meaning of the Five of Pentacles is that you have difficulty getting financial help. For example, an urgently needed loan is not granted to you or applications for social benefits are rejected.
In any case, you should not get down on yourself and continue to fight for the financial means you are entitled to, if necessary with legal support.
Reversed
The Five of Pentacles Reversed signals that your finances are gradually improving. Even if you had to go through some hard times at the beginning of your financial plans, you can now reap the fruits of your labor.
Nevertheless, stay on guard and always set aside for emergencies, so that your progress is not jeopardized.
Another feature of the Five of Pentacles Reversed is that you should get assistance from a partner to boost your finances.
Such help can include investment advice or a good friend with whom you discuss your finances. Such advisement will give you new ideas on how best to invest your money.
Do you want to know how your financial situation is developing? Draw your Finance/Money Tarot Card now for free!
The Five of Pentacles Tarot Destiny Meaning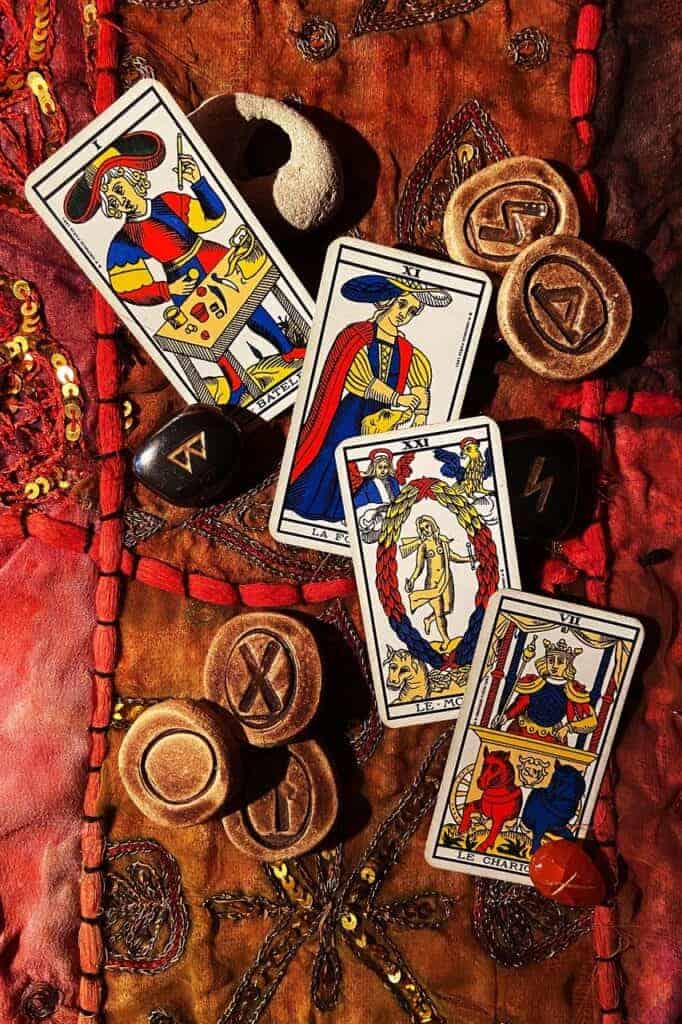 Upright
For your destiny, the Five of Pentacles reveals a time of austerity. You will have to tighten your belt considerably and restrict your lifestyle.
However, every hard time follows a good one again, so you can already see a light at the end of the horizon. Hang in there a little longer, and you'll be able to enjoy your old standard of living again.
Reversed
The Five of Pentacles Reversed means for your destiny that you are full of strength and vigor. At the moment everything seems to be going well, so you can devote yourself to the fulfillment of your dreams.
Maybe you should get a partner to help you. As a team, you can easily master even the most difficult hurdles.
Do you want to know what your destiny has in store for you? Draw your Destiny Tarot Card now for free!